Here are two links to two websites students can use to find books to read and take AR tests. All students have to do is, click on the link below and enter the passwords. Ms. R. Brown's students can find passwords for these sites in students' Google Classrooms under Reading!
Enjoy!
Click on the pictures! Passwords located in your child's google classroom!
Greetings and Salutations Second Grade Scholars!!!
Welcome To Second Grade!!!!
I am Ms. R. Brown your teacher!! I am very excited about this school year. You are going to learn so much!! We are in classroom 102. Please
click on the Google Meet every Monday -Thursday at 7:30 a.m. and Friday at 8:30 a.m.
Please complete all virtual class assignments by 8:30 p.m. on Tuesday and Thursday and don't forget to submit. (Google Classroom) Thanks!!!!!
You will be Ms. R. Brown's Buddies!! I look forward to meeting you and your family.
Ms. R. Brown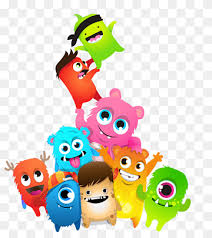 Classroom Dojo!!!! Click Below To See How Great Your Child Did Each Day! Our Classroom Behavior System Online!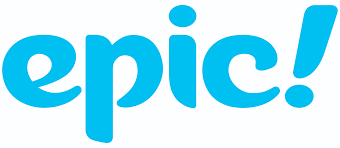 To Log into Epic Books: Students are required to read 5 books each week!
On Laptops:
Have students open there browser

Go to

www.getepic.com/students

Enter Class Code:egp2526

Select their name

For IOS (Apple):

After opening the EPIC app, ask students to:

Tap on "ENTER CLASS CODE"

Enter Class Code: egp2526

Select their name

For Android:

After opening the EPIC app, ask students to:

Tap "Have an account? Sign In," then tap "Students and Educators."

Enter Class Code: egp2526

Select their name



Next Good Behavior Party ?????
Skills: January 25-February 5, 2021
RI.2.1/RL.2.1- Ask and answer such questions as who, what, where, when, why, and how to demonstrate understanding of key details in a text.
RL 2.4 Describe how words and phrases (e.g., regular beats, alliteration, rhymes, repeated lines) supply rhythm and meaning in a story, poem, or song.
RF.2.3c Decode regularly spelled two-syllable words with long vowels.
RF.2.3a Distinguish long and short vowels when reading regularly spelled one syllable words.
W.2.2 Write informative/explanatory texts in which they introduce a topic, use facts and definitions to develop points, and provide a concluding
L.2.1 f- Produce, expand, and rearrange complete simple and compound sentences (e.g., The boy watched the movie; The little boy watched the movie; The action movie was watched by the little boy).
L.2.2a Capitalize holidays, product names, and geographic names.
L.2.a Use collective nouns (e.g., group).
2.MD.1 Measure the length of an object by selecting and using appropriate tools such as rulers, yardsticks, meter sticks, and measuring tapes.
2.MD.2 Measure the length of an object twice, using length units of different lengths for the two measurements; describe how the two measurements relate to the size of the unit chosen.

Our students will read the story "The Mysterious Tadpole", January 25-February 5, 2021. The Focus Wall below lists the reading and language skills covered during this period.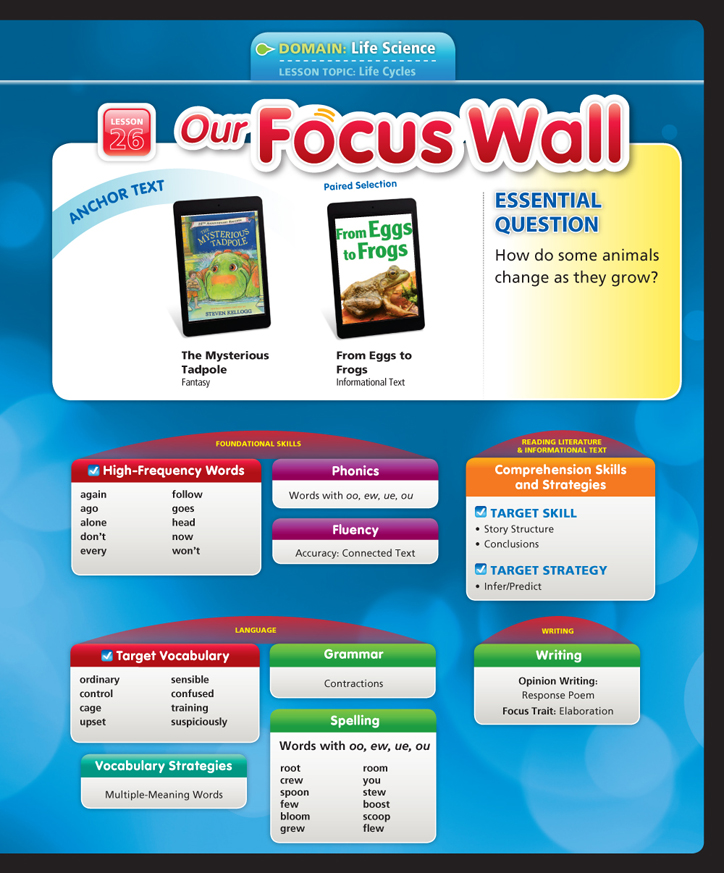 Science & Social Studies Vocabulary Words

ordinary control cage
upset sensible confuse
training suspiciously
We will see these words in Science & Social Studies passages and on power points. Discuss the meanings with a parent. Thanks Scholars!!!!!!
Parent Teacher Conference Availability
I am available for conferences via Google Meet or by phone on Tuesdays & Thursdays. Please let me know if another day is better for you.
Please schedule a conference to check the progress of your student.
Students must take and pass 5 AR quizzes each 9 weeks. Click on the AR link to take a quiz on our weekly Journeys' story or choose a book from our libraries below.
Here is a list of AR books we have read for two weeks in class.
1. Half Chicken
2. The Ugly Vegetable
3. Teacher's Pet
4. How Chipmunk Got It's Stripes
5. Click Clack Moo
6. Officer Buckle and Gloria
7. Dex the Heart of a Hero (next story)
8. Grace For President
9. Two of Everything
6. The Mysterious Tadpole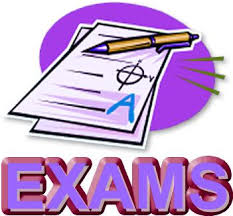 ATTENTION: The Good Behavior Party will be a Drive- Thru coming soon! More information forthcoming.
Virtual Schedule
Mondays & Wednesdays ( Face to Face with Teachers ) Tuesdays & Thursdays ( At Home on Computers Completing Assignments From Google Classroom )
***Get to Google Classroom from my Webpage. Access my Webpage from Primary.hssdk12.org
7:05-7:30 Breakfast
7:30-7:50 Morning Meeting
7:50-8:25 Phonemic Awareness (Heggerty) Phonics/ Spelling Words ( Journeys )
8:25-9:05 Vocabulary & Comprehension ( Journeys Reading Story )
9:05- 9:50 Writing ( Text Related)
10:05-10:20 Fluency(Sight Words/Fry Words, Repeated Reading )
10:20-10:50 Intervention (iReady (not up yet), Dreambox, Headsprouts )
10:50-11:15 Recess & Bathroom
11:15- 12:00 Lunch

12:00-1:40 Math Fluency
1:40-2:30 Activity
2:30 Dismissal for the Day
***** Please note that you will have to login to the Activity Teacher Class/Link on your own. Find the Teacher on the school's webpage.
**** Please submit all work on Tuesdays and Thursdays by 8:30p.m. Thanks, Scholars!!!!!!

Websites for Practice:
********************
Student iReady Log-In
User Name: first initial, last initial, student ID (student lunch number )
Password: day of birth + student ID
ex. ( 12 + 000 000 000 )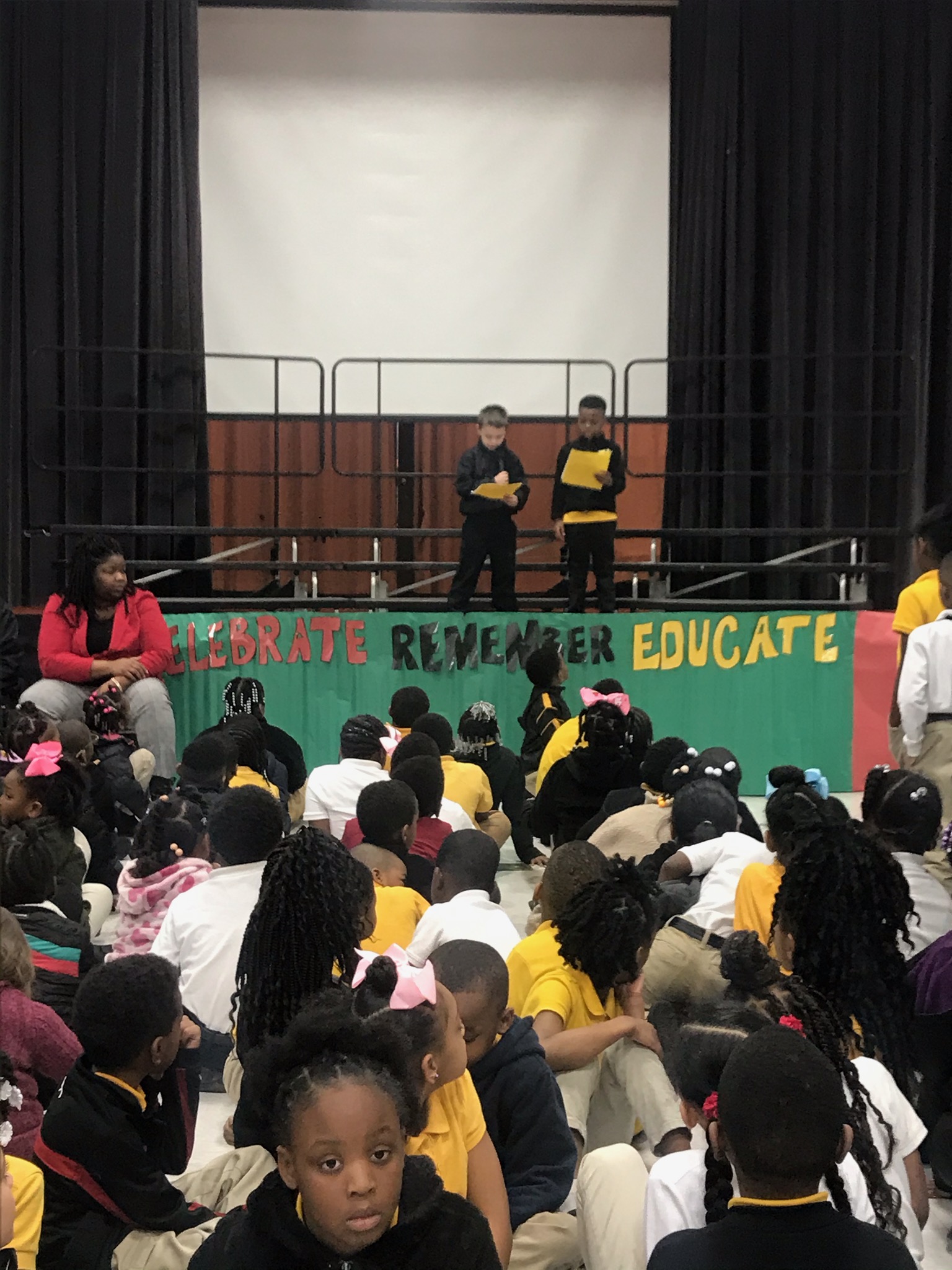 "I Have Only Just A Minute"
I have only just a minute, only sixty seconds in it. Forced upon me, can't refuse it. Didn't seek it, didn't choose it. But it's up to me to use it. I must suffer if I lose it. Give account if I abuse it. Just a tiny little minute, but eternity is in it. By Dr. Benjamin Elijah Mays